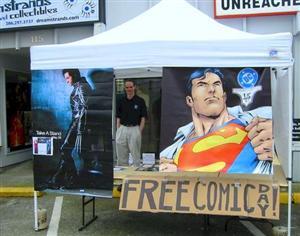 Free Comic Day!
Saturday, May 6th, 2017 - 10am-8pm
It's the comic book lovers' holiday!
First of all, FREE COMICS FOR EVERYONE while supplies last!
Huge Sale!
But wait, there's more! Saturday only, knock 30% off most everything in the store!
This includes:
Graphic Novels
Hardcovers
Action Figures
Statues & Busts
and even New Comics!
**NOTE ~ sale does not include premium comics priced $30 or more, sorry.**
All back issues under $10 will be 50% off!
We'll have a special section of back-issues priced at 3-for-a-dollar, and a huge selection of half-priced graphic novels!
Variant cover blowout! -- all variant cover back issues will be clearance priced at $5 each!
Artist Stefano Gaudiano (Walking Dead, X-O Manowar, Gotham Central) starting around 11am!
Local writer Miles Greb will be promoting his books After the Gold Rush and Clovis starting around noon!
Games!
All cards & games will be 20% off including Heroclix and Magic!
Magic, the Gathering - Dragon Bowling wins you a promo card while supplies last, and doing a demo gets you two free promo decks!
More Info
For more information about Free Comic Day celebrations around the country, visit TCBD's official site.